Company Overview
At Brilliant Rack, we believe a strong foundation is fundamental to the long-term viability and performance of ground-mount solar projects.
Brilliant Rack was founded in 2014 as a subsidiary of Cantsink Inc., a leader in commercial and residential foundations engineering. Leveraging more than 30 years of construction and foundations expertise, Brilliant Rack offers solar dev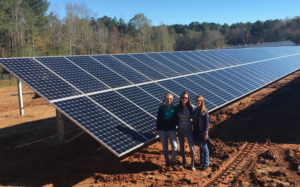 elopers and EPCs an easy-to-install, fixed-tilt racking solution for ground-mount commercial projects and solar farms. The Brilliant Rack solution offers maximum flexibility and simplicity, greatly reducing installation time and costs while ensuring the structural and aesthetic integrity of your project. Our foundations engineering team works with customers to determine the most reliable and cost-efficient solar foundation – even in the toughest terrain.
Based in Lilburn, Georgia, with local manufacturing, service and support, Brilliant Rack has provided more than 100 MW of solar racking and installed over 200 MW of foundations in the U.S.